Whipped Body Butter🌻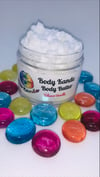 Ultra moisturizing, handmade body butter. Body butters contain Shea butter, cocoa butter and other essential goodies! Body butters are whipped and they will melt as soon as they touch the skin!
All Body Kande Body Butters moisturizes and forms a protective layer around the skin. Also eliminating any sign of dry, chapped skin and leaves skin feeling smooth and renewed.
Keep in cool, dry area. If melting occurs, store in refrigerator to solidify. If separation occurs, simply mix and apply for to body for an exquisite experience.
Please allow 5 to 7 business days as items are made to order. All sales final!
All KissKande scents are versions of my own and not affiliated with any other brand or corporation.
Use promo code LOVE at checkout for discount😘